If you are taking a look at hiring us for lawn mowing service this post might not be extremely helpful for you, but it will give you a glimpse into what we use to complete lawn service on your lawn today in 2022.  It also gives a history of our journey purchasing and using various lawn mowers for our business's use – which we use to cut our own lawn as well.
In 2016 when we started handing out flyers and getting our first customers to cut grass for I used a few different lawn mowers, but mostly a Troy-Bilt walk behind to start with, similar to the image below, but about 30 years older and way less shiny than this ?.  This thing is pretty sweet, self propelled, cool handles to engage blades and tires, but quickly found we needed to be more efficient and I love walking, but 10-15 lawns in a day adds up.
We had about a half season with the Troy Bilt mower and I then purchased my first zero turn mower on Craiglist – a Cub Cadet 50 inch, similar to the other image below.  I picked it up from a nice guy on Craigslist for $1400 – it was used, but in pretty good shape.  I used this mower for the remainder of the 2016 season, and started as our main mower for the 2017 season.  Though the mower was more efficient it seemingly could not take the rigors of daily mowing and the on/off the trailer.  I'd be putting on a belt – or fixing a tire, or strapping down the gas cap tighter every single day.  I knew we needed to upgrade to something more heavy duty, so our mower evolution continued……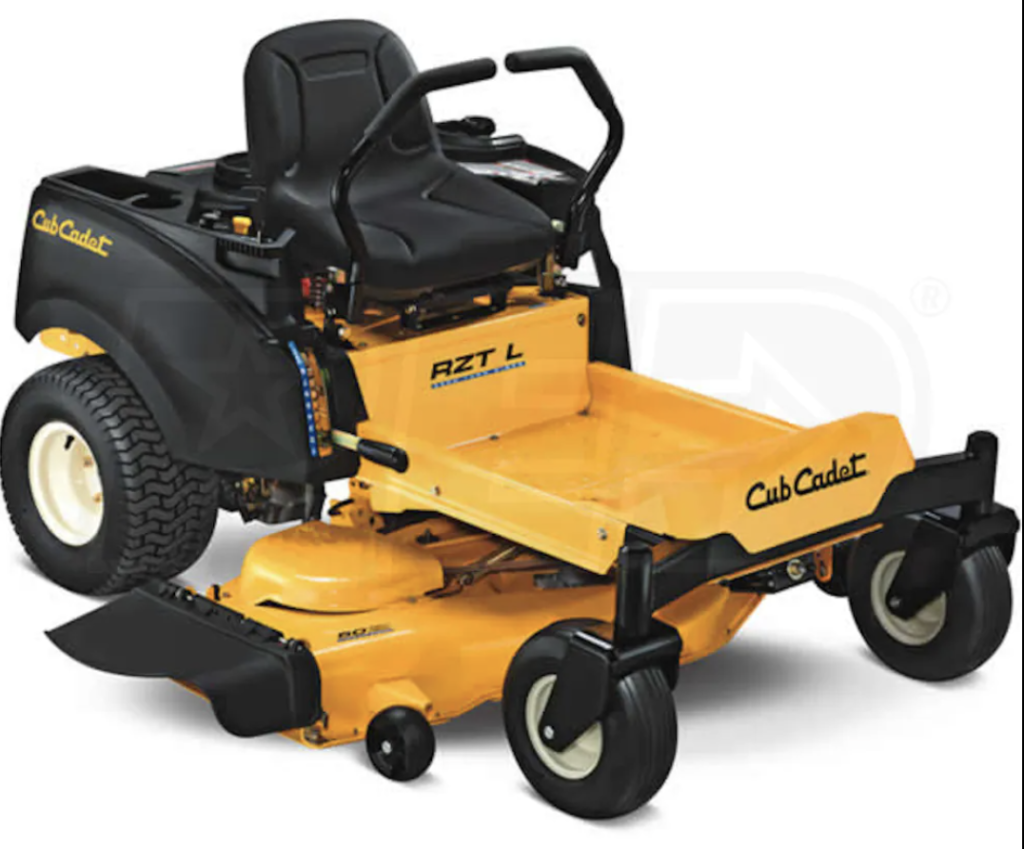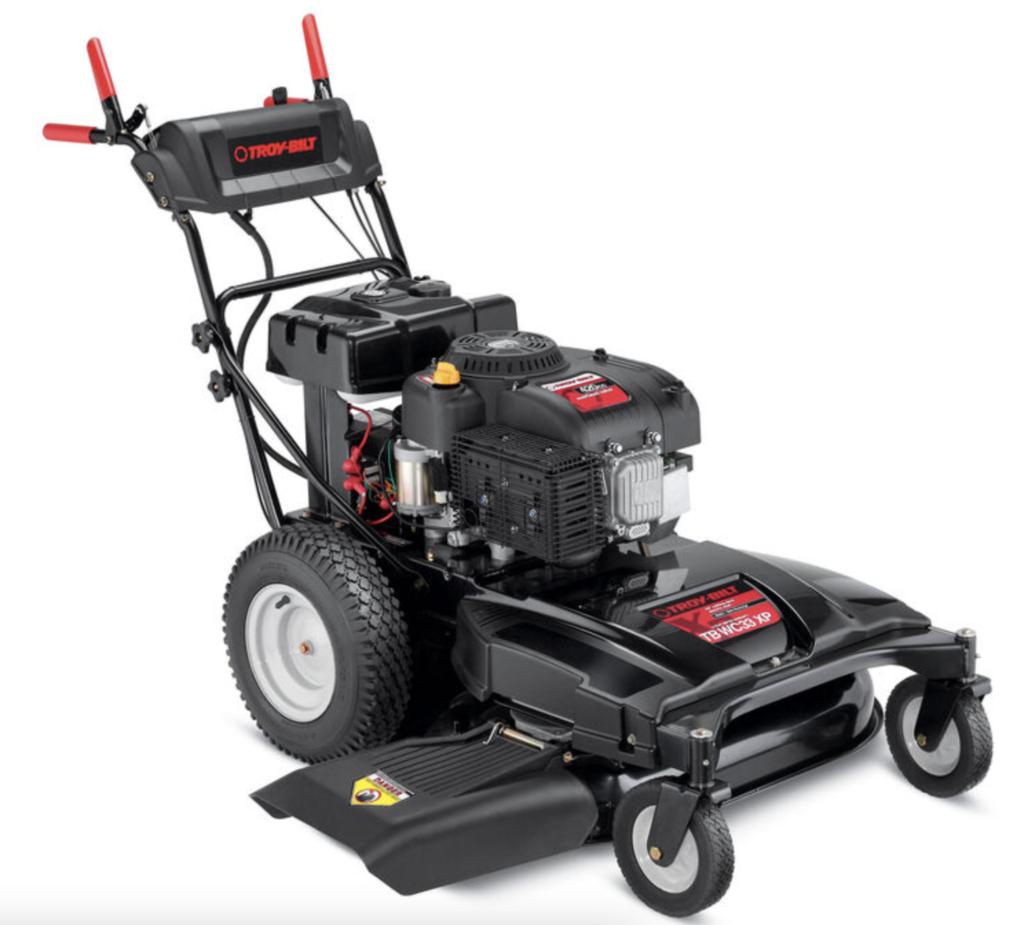 In Spring of 2017 our business was gaining traction and the Cub Cadet breaking down daily just wasn't 'cutting it' for us anymore (pun intented).  Cub Cadet luckily has now found its forever home at Uncle Pete's cutting grass.
For wislawn I finally went and purchased a mower with more of a 'Commercial' style that could take more of a beating on a daily basis.  This mower was the Gravely ZT-X 52 inch. This mower did a lot of work for our customers and wislawn!  It looked real nice cutting grass, and did a pretty good job cutting, was faster at 7 MPH that our Cub Cadet, there were issues with a couple electrical items and the seat once fell off ?? but in general it did a good job.  It was tough justifying $5000 for a lawn mower, but that was a better spot than the $10K+ commercial mowers we looked at for where we were in our business (or so I thought, more to come).  We also bought a 30 inch Toro Timemaster for the smaller areas, that we still use today!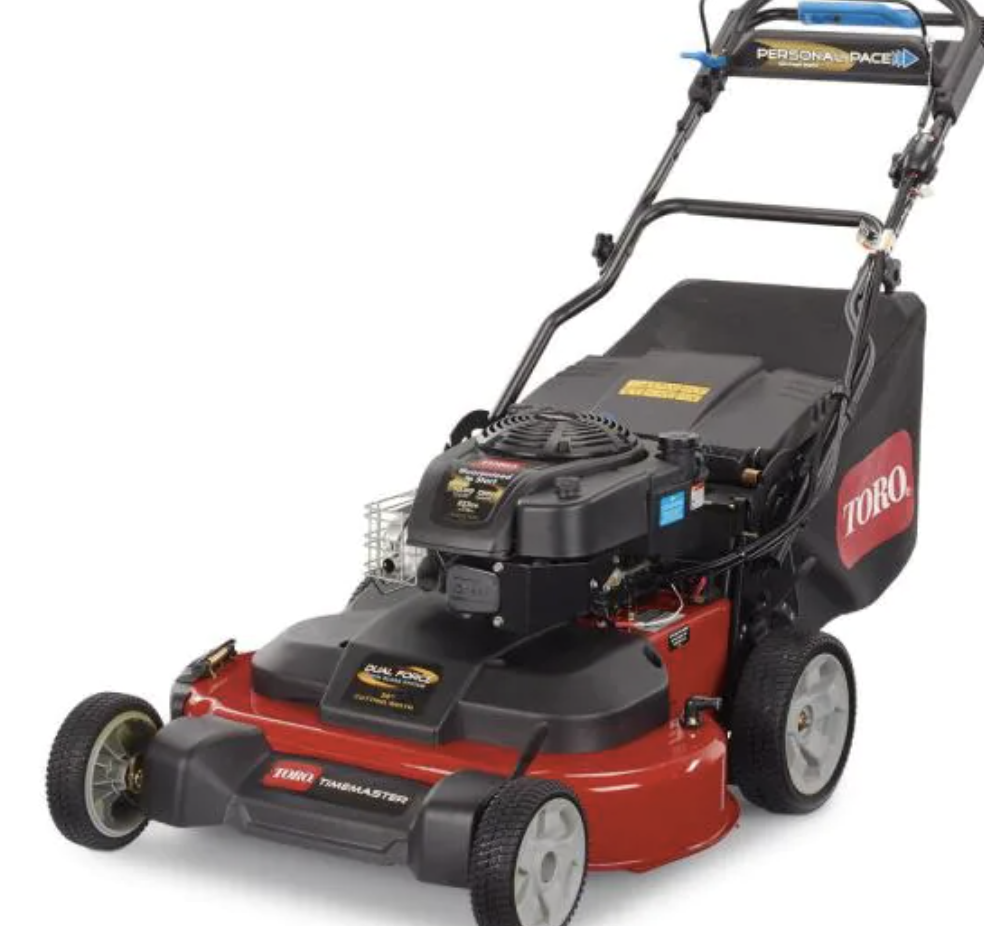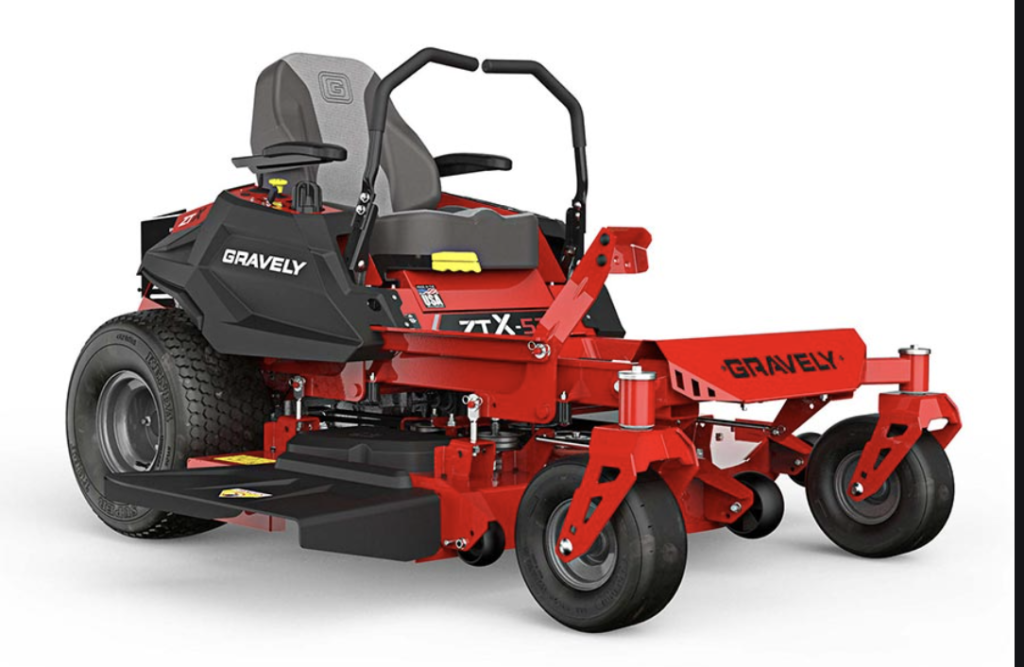 We used that Gravely ZT X for about a year until the components were starting to wear out and we needed an upgrade.  So I did it, I bought a full commercial zero turn mower – a Gravely Pro Turn 652. The Beast of Lawn mowers, whenever I sit on it a do a Tim Allen Home Improvement Grunt and say "more powerrrrr".  This thing really is a beast!  Heavy duty everything, great comfortable seat, goes 13 MPH.  When I say heavy duty I mean HEAVY too – 1600 lbs heavy!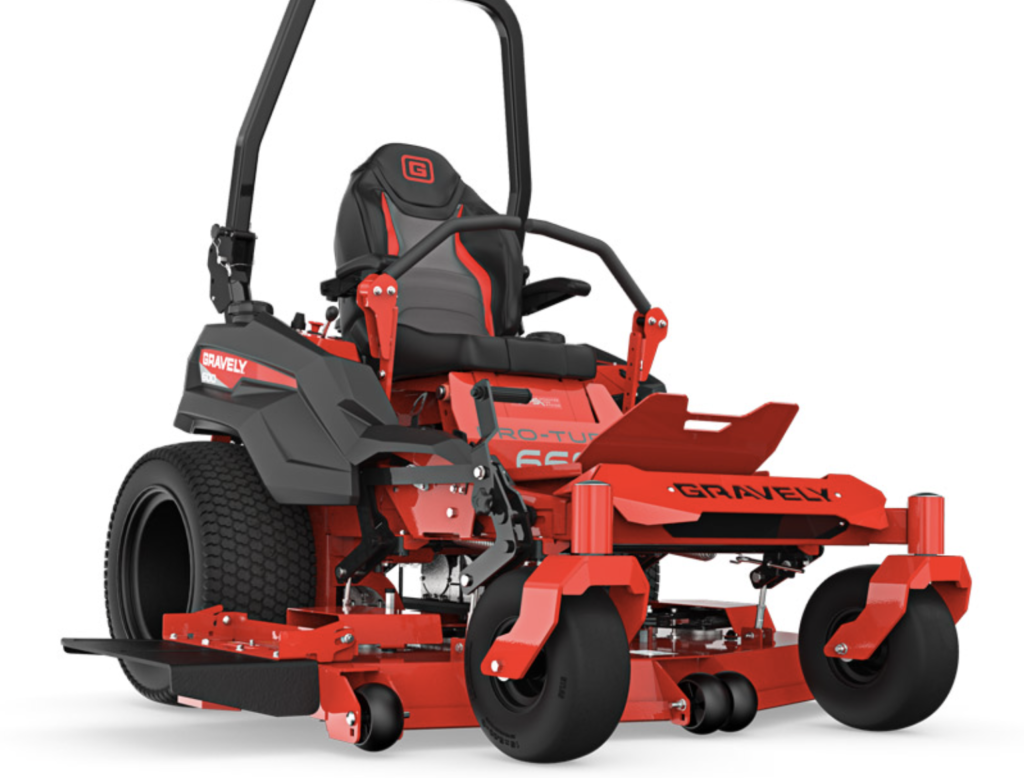 This mower worked great for commercial properties – but I just can't recommend it.  This is the second Gravely mower I had problems with seat components and something is just not quite right with the engine/electrical.  The mower will work fine for 4 hours, then stall out for a few seconds seemingly randomly.  For the price of the mower being $10K+ this is not ideal.  We also found if you've ever been through a Wisconsin spring…..it really NEVER drys out.  This heavy heavy mower was not great for smaller residential properties – which are the properties we really enjoy working on most – and want to be sure to do the best job possible.  So after a year with this machine (with it still being used as a back up mower today)…….our mower evolution continued!
---
After using the big beast zero turn mower in late season 2018, and beginning of spring 2019 I knew we needed to change to better serve our customers.  The mower was just too heavy and was not good for the residential properties we really enjoy serving (up to an acre or so).  So, I did some deep soul diving – taught my self about sunk costs being just that, and decided wislawn would not be a victim of the 'ol sunk cost fallacy.
---
The beast gravely would be delegated as a backup machine and we would purchase a Toro Grandstand 52 inch in spring of 2019.  I knew after cutting just one lawn with this mower our business had changed for the better.  Who knew a lawn mower could have such an impact!  I have nothing bad to say about these mowers (we now have 2 of them).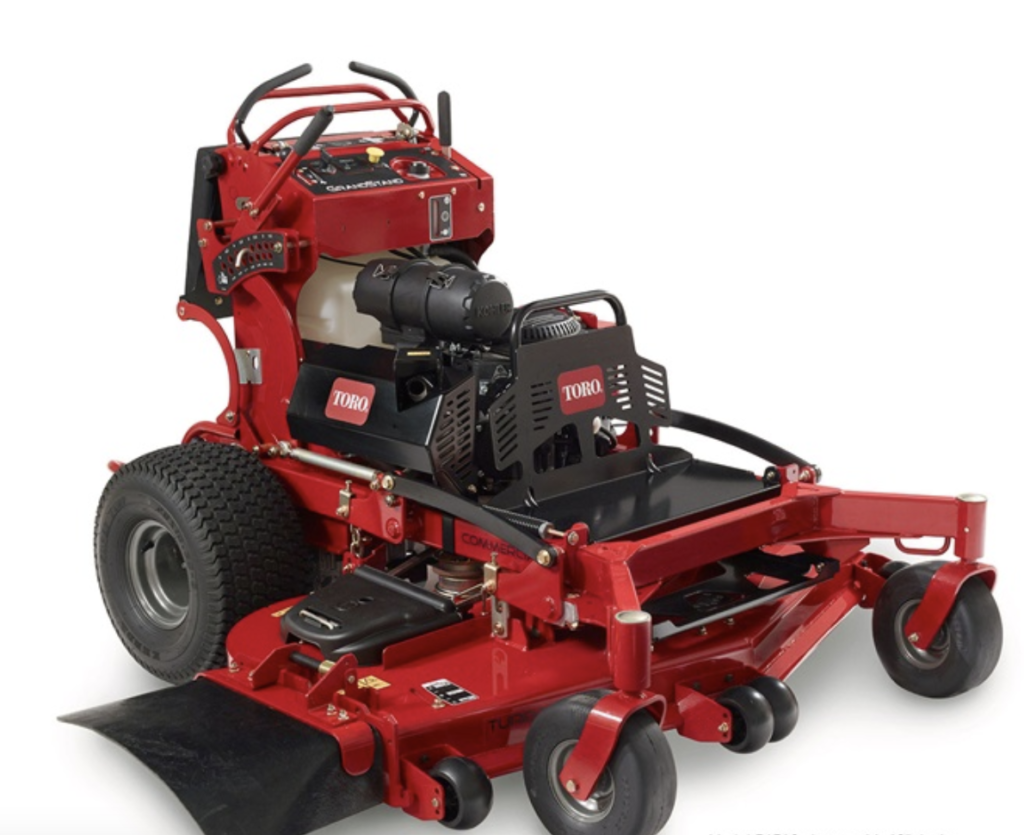 They cut great in all conditions, they weigh only half as much as the beast gravely, and they just work!  Also, you stand on this mower, not sit, which actually makes me and the team feel more refreshed at the end of the day as you don't need to stand/sit/stand/sit.  Even when it's a bit wet out this thing cuts great, and though it's tough to describe it doesn't rut up yards at all.  It almost feels as though it floats across the yard as your body weight equalizes the weight of the engine – I'm not sure but I like it!  They are so versatile and easy to use.
Since 2019 we have had the same 2 machines and we maintain them consistently with blade changes, engine and hydro oil changes, and one belt change.  Other than that, like I mentioned earlier they just work!  Which is really what we need so we show up every week and do a great job for our customers.  In 2022 we will be rolling with these mowers again and for years to come.
---
It took way longer more me to figure out the best mower for our customers than I'd like to admit, but the journey was a learning bonanza.  Broken belts, spilled gas, popped tires, a mattress stuck on a mower, it all led us to the right mower for us today which is great.
In 2022 we will be using the Toro Grandstands, but what will the future hold?  I am really interested in the Battery Powered Toro Grandstand releasing soon, but my understanding is that the price stands currently about 5x as much as a gas powered Grandstand currently.  It would be great not to have the noise pollution or have our team have to breath as much of the fumes creating by our gas guzzling mowers, but it looks like it will take some time to see a feasible solution for us to try out and see business success with.
Last, the Robots are coming! You've probably seen a couple robot lawn mowers around, but they also just aren't in a spot to where fiddling with maintenance and expensive setup are worth the hassle…..yet.  I'm always keeping an eye on these things, but haven't really seen what looks like a reason to be too excited for them as of yet, we will see what the future holds though.
Thanks for reading!
Eric Levenhagen
Owner
Wislawn