"We mow, so you don't have to!"
We specialize in Weekly Lawn Mowing for homeowners in Waukesha County. We also provide Fall and Spring Clean-Ups and more to homes and businesses in our community.  We take pride in our work, in being friendly, and doing what we say we will.
Call or submit online now for a fast and free quote.
from Eric and Stacy:
Thank you for visiting our website, we hope to be able to assist with your lawn mowing and outdoor maintenance needs to save you some time.  We have a simple guiding goal when we provide service:
Make your life simpler.
We are here to help with any questions you may have regarding pricing or services.  Please call, email, or submit a request anytime, we are happy to discuss.
We are licensed and insured, offer online payment, and do not require a contract. Thank you for considering us.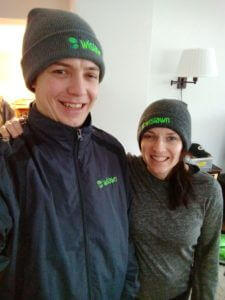 Eric and Stacy Levenhagen, Owners
Call or submit now for a free mowing or property maintenance quote and we will be in contact very soon.
Of course we plan on doing a great job mowing your lawn, but why choose us over another lawn care company?
We strive for simplicity and practicality.  Lawn mowing and property maintenance is the service we provide to save you time, and we do our best to be sure it's done well so you don't need to worry about it.

We show up and we're available.  Reliability can be tough to find in service providers.  We'll be there when we say we will and will address and return your calls or emails promptly.

We have insurance.  Coverage to protect you if anything were to happen.  Many out there mowing today would never be seen again, we will be there to help if there's an accident or mistake as we carry all proper insurances including worker's compensation and liability insurance.

Our 100% Guarantee.  If you aren't happy with the work we will fix it.  If you still aren't happy you won't pay for it. 
We look forward to hearing from you – we can provide a mowing quote quickly via phone or web request.
---
Wislawn is a family owned lawn maintenance company serving Pewaukee, Waukesha, Sussex, and surrounding Waukesha County Wisconsin areas. We specialize in Lawn Mowing and property maintenance.
We will get back to you with a mowing quote quickly.  Give Stacy and I a call or submit a request today – we look forward to helping out.
We are licensed and insured and promise to treat your property as if it were our own – whether home or business.
We maintain a 2M-4M liability insurance policy along with worker's compensation coverage much higher than the state required standards for the protection of our customers. 
Lawn Mowing Service – Lawn Mowing – Lawn Care – Lawn Maintenance – Bush Trimming – Clean Up – Property Maintenance – Grass Cutting – Grass Mowing – Commercial Mowing – Residential Mowing
Looking for a job? We'd love to hear from you. Check our available employment and submit your info.